Birding in Argentina - by Helm van Zijl
Doug

Topic Author

Visitor
8 years 1 month ago
#15212
by

Doug
Doug created the topic: Birding in Argentina - by Helm van Zijl
* denotes a lifer
After almost 8 hours of flying time Gill and I landed at Buenos Aires at 1745 on Wednesday 11 November 2009. Fortunately the sun was still shining. On the long drive from the airport to our hotel in the CBD, I noticed a number of birds that on the face of it looked like our Laughing Dove, [later identified as Eared Dove*], and 1 bird with a raised tail, [later identified as Chalk-Browed Mockingbird*]. Eventually at 1930 we walked in a park close to our hotel where we were able to see plenty of Eared Dove, Picazuro Pigeon*, Rufous Bellied Thrush*, Rufous Hornero* [Argentina's National Bird] and the ubiquitous Rock Dove and House Sparrow. Our task in identifying the birds had been made considerably easier by having studied for a number of months 2 bird-guides i.e. 'Birds of Argentina & Uruguay' by Narovsky& Yzurieta, and 'Birds of Southern America and Antartica' by De La Pena & Rumboll. Although Argentina has a bird list of about 1000 with 82 families, we could eliminate a number of them by focussing only on those which were likely to be seen in the areas we intended to visit. We were further assisted by the book 'Where to watch birds in South America' by Nigel Wheatley.
On Thursday 12 November I went back to the same park and this time I added Monk Parakeet*, Shiny Cowbird*, White-rumped Swallow* and Common Starling. We went on a guided tour of the very neat and tidy Buenos Aires and outside the Mausoleum we saw the Chalk-browed Mocking Bird. At 1230 we were dropped at the main entrance to the Costanera Sur Nature Reserve. We had hardly started walking into the reserve when we saw the male and female Golden Breasted Woodpecker*, Bay-winged Cowbird*, Guira Cuckoo* and Great Egret. We were caught in a conflict, when should we stop to eat our lunch and interrupt our birding in this feast of birds? Hunger pains compelled us to sit on a bench and finish a quick lunch. We added Rufous-collard Sparrow*, Black- and- Rufous Warbling- Finch*, Masked Gnatcatcher*, Great Kiskadee*,Chestnut-capped Blackbird* and our first South American humming bird, the Glittering-bellied Emerald*. We walked along the main and straight road and it was hot and humid although mostly shady. Because the reserve does not charge an entrance fee it is a favourite track for joggers of which there were many. In the extensive wetlands we added the following lifers - White-winged Coot*, Snowy Egret*, [the SA version of our own Little Egret], Brazillian Duck*, Silver Teal*, Bare-faced Ibis*, South American Stilt*, Speckled Teal*, and White-necked[Cocoi] Heron*. We also saw White-faced Duck. We saw two raptors i.e. Chimango Caracara* and Bay-winged Hawk*. By 1600 we were exhausted and took the long walk back to our hotel.
On Friday 13 November we flew from Buenos Aires to Iguazu Falls which is the most visited place in Argentina. Walking from our air-conditioned Sheraton Hotel into the open was like stepping into an oven. We added Southern Lapwing* nesting on the front lawn of the hotel and Red-rumped Cacique* behind the hotel. On our stoep we saw the small Sayaca Tanager*. We walked along the practical cat-walk to view the very extensive and spectacular Iguazu Falls. Soon we saw the incredible Great Dusky Swift* diving in and out of the falls to its nest behind the falls. Flying overhead and also roosting were Black Vulture* and a solitary Turkey Vulture*. We added the beautiful Plush-crested Jay* and our second humming bird the Violet-capped Woodnymph*. Swimming just above the waterfalls we saw Neotropic Cormorant* and at last another raptor, Plumbeous Kite*. Suddenly, and on a branch a turkey sized black bird moved and caught our attention, the rare Black-fronted Piping-Guan*. Whilst walking back to our hotel we saw Pale-breasted Thrush*, Saffron Yellow Finch*. From our room facing the forest we spotted a Woodpecker flying to a tree, and upon closer inspection it was the beautiful Yellow-fronted Woodpecker*.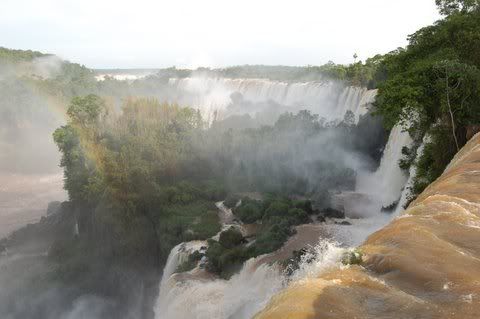 On Saturday 14 November we got going at 0530 and birded in the forest behind the Sheraton and before long we added the distinctly coloured Purple-throated Euphonia* AND THEN THE BIRD Gill and I had hoped to see: TOCO TOUCAN*. What amazed me was the incredible SIZE, [almost unnatural], of the bill. After the excitement of the Toucan we added Squirrel Cuckoo*, Scaly-headed Parrot* the small Blue-winged Parrotlet* and the smaller and vociferous House Wren*. Five lifers before breakfast! We decided to view the Devil's Throat of the falls. This is the so called favourite part of the falls where the water falls over a u-shaped section. We took an open-air train to the far point near the Brazilian border and then walked 1.1km on the cat-walk over parts of the river to view the Devil's Throat. What a stunning view. We saw Ahinga*, [almost like our Darter], Tropical Kingbird* and Barn Swallow. We went on a rubber duck down a section of the river above the falls where we saw another Toco Toucan and Greater Ani*. We joined a forest drive and boarded a power boat that took us for a soaking cruise under certain parts of the falls. That afternoon there was a thunderstorm which eventually finished late afternoon. I anticipated that I would see plenty of bird activity and fortunately this proved to be correct. I went to a site where one of the guides had said she had seen Chestnut-eared Aracari and by an incredible stroke of luck I was joined by Paula who had been our guide through the forest. She was about to play on her iPAQ a recording of the Aracari when she heard a Yellow-headed Caracara* calling and low and behold there it was on top of a tree. With Paula's aid I found the unusual looking Piratic Flycatcher*, a group of five Chestnut-eared Aracari*, Three-streaked Flycatcher*, Fork-tailed Flycatcher*, Yellow-bellied Elaenia*, SwallowTanager*, Chopi Blackbird* the rainbow coloured Green-headed Tanager* and Creamy-bellied Thrush*.
On Sunday 15 November I birded from 0900 to 1000 in the forest around the Sheraton .I saw amongst others three Toco Toucans and a Squirrel Cuckoo. We were delayed 2 hours in our departure from Iguazu Airport due to a thunderstorm but the pilot made up the time to Buenos Aires so that we were just in time for our long flight to El Calafate [4hrs 10mins].
Monday 16 November and en route to boarding a catamaran on Lake Argentina we saw Chilean Flamingo* and our third Caracara, the Southern-crested Caracara*, Upland Goose* the beautiful Black-faced Ibis* and Kelp Gull. On the lake trip we saw the regal and large Andean Condor*. On the drive back to El Calafate we added Cinerous Harrier*. We got off the bus at a point west of El Calafate and whilst walking saw our fourth Thrush, the Austral Thrush*, the distinctly coloured Rufous-bellied Negrito*, Megallanic Oystercatcher*, Speckled Tyrant*, Chilean Swallow*, Blue and White Swallow*, Common Miner* and Dark-bellied Cinclodes*.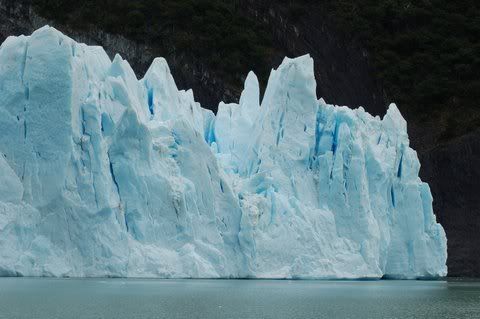 On Tuesday 17 November we were en route to Perito Moreno Glacier when we stopped for a mini break. High up in the sky was a circling but distinctly marked Black-breasted Buzzard Eagle*. At the extensive walkways to view the glacier, spectacularly calving every now and then with a thunderous roar, we saw the colourful Patagonian Sierra- Finch*. On the way back to El Calafate we saw the distinctly coloured White-browed blackbird* and we got dropped near Laguna Nimez, a very small lake. We added Black-chinned Siskin*, Red Shoveller*, flying Coscoroba Swan*, several Wilson's Phalarope, three Bairds Sandpiper and Magellan snipe*.
On Wednesday 18 November we were due to fly to Ushuaia at 1100 and I took the opportunity to bird Laguna Nimez once more. I was the only person there and what a sight it was in the early morning light. I added Southern Wigeon*, the fairly rare Andean Ruddy Duck* and Brown Hooded Gull*. I also saw a Cinerous Harrier sitting on a nest with her partner close by keeping guard. I lastly saw a second mockingbird i.e. Patagonian Mockingbird*. At 1100 we flew the short distance to Ushuaia, the southernmost city in the world. On our way to our hotel I saw the distinctive Long-tailed Meadowlark*. After dropping our luggage at Hosteria Los Fuegos which is situated in a forest we walked through the forest along a river bank where we saw several Chimango Caracara and also Southern Crested Caracara. We saw our fourth Caracara the distinctive White-Throated Caracara*, Ringed Kingfisher* and two Gulls i.e. Dolphin* and Olrog's*. A Dark-faced ground-Tyrant* proved to be a bit of a challenge but not the distinctive White-crested Elaenia*. We ultimately identified a Thorn-tailed Rayadito* which was agitatedly feeding young in a nest in a hole in a tree.
Thursday 19 November we went with a guide to Tierra del Fuego Reserve where we saw Ashy-headed Goose*, Magellenic Flightless Steamer Duck*, Crested Duck*, Black-crowned Night heron, Great Grebe* and Grey-flanked Cinclodes*. After unsuccessfully searching for Megallanic Woodpecker we concluded our visit to this beautiful and scenic reserve. In the afternoon we again birded in the forest at our hotel and saw Chilean Skua* harassed by a Kelp Gull.
On Friday 20 November we went for a two and a half hour sail on a catamaran in the Beagle Channel. We saw a breeding colony of South American Tern*, and flying Black-browed Albatross, Southern Giant Petrel and Chilean Skua. We saw a colony of breeding South American Sea Lion. I counted 15 Snowy Sheathbill on this island. I also saw a Grey-flanked Cinclodes. We added the beautiful Kelp Goose* and our first penguin the Megallanic* swimming in the water. We saw two cormorants/shags i.e. Rock* and King/Imperial/Blue-eyed*. We also saw the following gulls, Dolphin, Orlogs, and Kelp as well as Flightless Steamer Duck.
This trip in the Beagle Channel is in my view a must if you are in Ushuaia and you are remotely interested in birds. Apart from the Sea Lions and birds the scenery is magnificient.
Saturday 21 November was the day we were due to board the MV Polar Star for a 20 day trip of a lifetime to the Antarctic but we still had time to bird in Argentina. We were due to board at 1600. After breakfast we walked in the forest again and saw the beautiful White-throated Tree-runner*. After lunch and at the coast we added our second oystercatcher i.e. Blackish*. In the 10 days we had spent in Argentina we had seen 119 birds including 104 lifers. What struck me was the total absence of crows, [thank goodness], and that this niche has been filled by the good looking Caracaras.
Helm van Zijl
Please Log in or Create an account to join the conversation.
You are here:  

Birding in Argentina - by Helm van Zijl